Thanksgiving is a time to pause, reflect, and express gratitude. This year, Sokolove Law would like to call attention to 5 individuals who have made the world a better place. All 5 of these individuals are true heroes who have made a difference through their unique brand of advocacy, calling attention to the people who deserve our help.
Their honorable actions range from drafting and promoting legislation, spreading knowledge, forming community, and advancing medical care and practices. All of these people share a passionate and tireless drive to remedy and prevent the effects of corporate interests and greed. By celebrating them, Sokolove Law celebrates the idea that compassion is the bedrock of our society – and that the actions of one person can, and often do, make a world of difference.
---
1. Jon Stewart
For nearly 2 decades, Jon Stewart – comedian and former host of The Daily Show – has been an effective and passionate advocate for disenfranchised groups. In other words, Stewart has a long tradition of standing up for what's right.
In September of 2015, Stewart joined 9/11 first responders and advocates on Capitol Hill in order to lobby Congress for the extension of the James Zadroga 9/11 Health and Compensation Act which was set to expire that night – an extension that would make it possible for 9/11 firefighters and first responders to continue receiving necessary medical care and compensation for illnesses caused by participation in rescue operations.
After spending countless hours breathing in harmful debris and dust, many first responders are now suffering from asbestos-related diseases such as mesothelioma. It is a crime to let these heroes suffer alone.
Addressing 9/11 first responders that day on Capitol Hill, Jon Stewart expressed the frustration that many share.
"I'm embarrassed. I'm embarrassed for our country. I'm embarrassed for New York. I'm embarrassed that you, after serving so selflessly, with such heroism, have to come down here and convince people to do what's right for the illnesses and difficulties that you suffered because of your heroism and because of your selflessness."
Unfortunately, this embarrassment is still being felt by Stewart and others. As of today, the legislative act introduced to Congress that would make benefits permanently available to 9/11 first responders has not yet been approved.
As Stewart points out, this is a somewhat unbelievable betrayal. It's our hope that Jon Stewart, and other advocacy groups, can help promote legislative change for our brave 9/11 heroes. This Thanksgiving, let's be thankful for Jon Stewart who – by standing up for the rights of heroes – has become a hero in his own right.
---
2. Barbara Boxer (D-CA)
Senator Barbara Boxer (D-CA) deserves recognition this year for co-authoring a bill that would meaningfully reform the Toxic Substances Control Act (TSCA) – an act that has not been updated since its inception in 1976.Since 1976, the Environmental Protection Agency (EPA) has tested only about 200 of the approximately 84,000 chemicals in the TSCA's inventory. This is because the EPA is not mandated by law to either test or restrict these chemicals. In other words, they are not given the ability to protect the public from these harmful chemicals. Needless to say, the TSCA badly needs updating.
Senator Boxer co-sponsored a TSCA reform bill in opposition to a competing bill written by Senator Tom Udall (D-NM) and Senator David Vitter (R-LA). Senator Boxer's bill takes a significantly tougher stance on chemical safety. In reviewing the competing Vitter-Udall bill, she said, "I want a good bill, and we don't have it here." This purity of heart and motive of hers is admirable. Instead of accommodating corporate interests and greed, Boxer has stayed on track.
Beyond writing competing legislation, however, Boxer has even fought back directly against the inappropriate influence of the American Chemical Council (ACC) – an organization that lobbies on behalf of corporations. In a speech after first receiving the Vitter-Udall bill, she said:
"It was clear from the computer coding that the final draft originated at the American Chemical Council itself. Maybe I'm old fashioned, but I do not believe that a regulated industry should be so intimately involved in writing a bill that regulates them."
It takes a strong moral compass to resist the persistent lobbying by groups like the ACC, but it takes guts to call out these corrupt organizations so publicly.
In addition to this, she has also criticized the content of the legislation, pointing out that "the Udall-Vitter bill only provides for the assessment of just 25 [chemicals]" and it "doesn't even mention the word asbestos." Thankfully, Senator Boxer's bill would guarantee action by the EPA on the testing and regulation of hundreds of chemicals.
---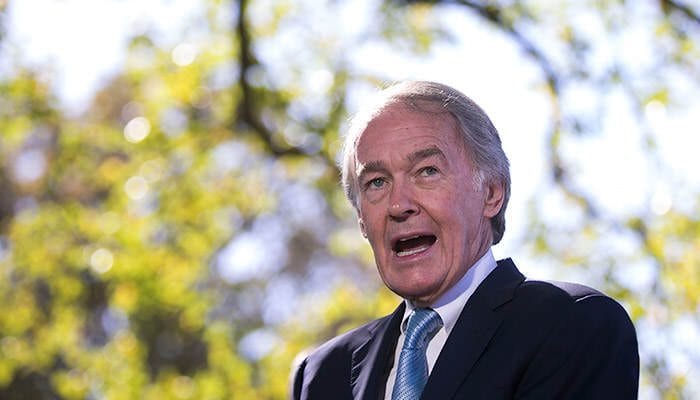 3. Edward Markey (D-MA)
Senator Edward Markey (D-MA), who co-wrote the TSCA reform bill with Senator Boxer, also deserves recognition for his actions. Like Senator Boxer, he knows how to stand his ground and resist the influence of the ACC. The Boxer-Markey bill he has co-written takes a firm stance against corporate practices and interests that prioritize financial gain over the health of workers and the health of the general public.
Who would oppose such a bill? Well, the American Chemistry Council (ACC) for one. The ACC association represents 155 corporate members – like DuPont, Bayer, and ExxonMobil – with an annual budget of $100 Million. The fact that corporations are willing to spend millions of dollars to prevent meaningful safety regulations – in order to, in the end, save money – is more than disheartening, it's outright evil.
Unfortunately, in this day and age, it comes as no surprise to learn that the ACC has been a top campaign contributor for Senator Udall. How, then, can any bill that Udall writes concerning chemical safety be trusted?
Without meaningful TSCA reform, minimal gains, if any, will be made in the area of chemical safety and regulation. Senator Markey certainly deserves recognition for his strength and determination on this issue that affects us all.
---
4. Linda Reinstein
In 2004, a year after her husband was diagnosed with mesothelioma, Linda Reinstein co-founded the Asbestos Disease Awareness Organization (ADAO). Reinstein's frustrating search for answers following her husband's diagnosis prompted her to create an organization that could both work to prevent asbestos-related diseases and protect victims' rights. Today, she is president and CEO of this organization, which is the largest independent nonprofit of its kind in the U.S.
Although ADAO has grown dramatically over the last decade, its core principles have remained the same. The 3 main goals of this organization concern initiatives in the areas of education, advocacy, and community. It is the combination of these 3 different approaches that has resulted in something meaningful. Without advocacy, there is no education. Without community, there is no support. Without support, there is no change.
To this end, the ADAO holds yearly conferences, drafts petitions, finds unique ways to draw awareness, distributes educational material, and routinely joins forces with other national and international organizations. Additionally, the ADAO makes it easy for those affected by asbestos-related diseases to connect with each other via social media. Reinstein is well aware that, in the fight against asbestos, the spread of information is key.
Reinstein has shown herself to be a true hero and fighter. Someone like Reinstein – who was able to turn personal misfortune into personal accomplishment through the creation of an organization that could offer meaningful resources for others in a similar position – is certainly worth calling attention to.
---
5. Dr. Raja M. Flores
Dr. Raja M. Flores is the Chairman for the Department of Thoracic Surgery at the Mount Sinai Medical Center in New York City. He was the first to practice a minimally-invasive surgical procedure called "VATS lobectomy." This procedure is proven to be equally effective as more invasive procedures but to result in fewer complications and shorter recovery time. Needless to say, this approach to combat mesothelioma has changed the landscape of cancer treatment. By taking into account a patient's recovery time, Dr. Flores has demonstrated that he cares for the emotional and physical well-being of his patients.
His actions in combating mesothelioma, however, don't end there. Dr. Flores is also actively involved in cancer research and trials. He is lead investigator of the Libby Epidemiology Program which continues to examine, and seek to understand further, the health effects of asbestos exposure.
In addition to this focus on research and surgical techniques, Dr. Flores is also an important advocate for the rights of 9/11 first responders. Since 9/11, Mount Sinai has followed roughly 30,000 first responders in order to track their medical conditions. He was recently quoted about this issue:
 "I think that there are going to be a lot of other things that develop that we did not anticipate. But the things that we are anticipating are lung disease, asthma, cancers and also mental health issues – great amounts of depression and post-traumatic stress disorder."
Clearly, Dr. Flores is more than a surgeon. He is also a researcher, a professor, and an advocate. His comprehensive and compassionate approach to the issues surround asbestos exposure and mesothelioma are certainly something worth celebrating.
---
What These 5 People Represent
This Thanksgiving, let's not forget to express thanks for these 5 people – and the many of others like them – who work tirelessly to ensure that the rights and health of our nation are protected. Let's celebrate their fight for justice. Let's celebrate the spirit in people that makes compassion possible. Let's celebrate and protect each other – and each other's well-being – over corporate greed and financial gains.