Veterans fought bravely for our country, but many now face a new fight: mesothelioma. There is a higher risk of mesothelioma among veterans since asbestos was used in all branches of the U.S. military. Roughly 33% of mesothelioma cases have been shown to involve veterans of the U.S. Armed Forces. Veterans with mesothelioma or other asbestos diseases may be eligible to receive VA benefits, health care, and compensation from legal claims. Do not delay — get a free case review today.
Top 4 topics on this page:
Veterans and Asbestos Exposure
Americans who served in the U.S. military are at risk of mesothelioma, a deadly cancer linked to asbestos exposure.
Asbestos is a naturally occurring mineral that resists fire and heat. For most of its history, asbestos was marketed as cheap and useful in many applications.
As a result, it was used in every ship built by the U.S. military for much of the 20th century. Trucks, tanks, and barracks were also built with asbestos-containing products — exposing thousands of active-duty service members.
Call Sokolove Law right now at (800) 647-3434 if you've been diagnosed with mesothelioma or another asbestos-related disease.
All military branches relied on asbestos, including the:
Veterans exposed to asbestos may be able to pursue financial compensation with the help of an experienced mesothelioma law firm like Sokolove Law.
Legal Help for Veterans with Mesothelioma
Filing a claim for VA benefits is not the only option for veterans with mesothelioma and other asbestos-related diseases.
Veterans exposed to asbestos may be able to pursue compensation:
Through a legal claim that ends in a mesothelioma settlement or verdict
From asbestos trust funds established by manufacturers of asbestos-containing products that declared bankruptcy
When you work with Sokolove Law, we'll handle every step of the legal process on your behalf, from building your legal case to filing a claim for benefits. Get a free case review today to get started.
Video Summary:
In this video, Walter, a Sokolove Law client, talks about his experience working with Sokolove Law.
View Transcript.
He said, "you have all your paperwork in order?" I said, "Yes I do." He said, "Well, Keep it there" Nobody ever said anything, about it being dangerous. The powers of being new, I said, "Well, heck with this noise, they're gonna hear from me." I wasn't suing the government, I wasn't suing the U.S. Navy, I was suing the manufacturer. If you or a loved one has been diagnosed with Mesothelioma, you may be entitled to compensation.
Legal Claims
By filing a legal claim, veterans may seek additional compensation from the asbestos companies that are responsible for their exposure and the disease that it caused.
The vast majority mesothelioma claims settle before reaching the court, and many of our clients begin receiving compensation within 90 days.
$1M - $1.4M
Average Mesothelioma Settlement Amount
Other cases, however, can press on until a jury verdict is reached. The compensation amount of a trial verdict is typically higher, although this route poses a much higher risk.
At Sokolove Law, our VA-accredited mesothelioma lawyers have helped thousands of veterans. Not only can we build your case for you, but we can also help guide you to the best legal option to maximize the compensation you may receive.
Just a few of the past results we've been able to secure for veterans of the U.S. military include:
$40 Million Verdict
Occupation: U.S. Navy Veteran
$3.4 Million Settlement
Occupation: U.S. Army Veteran and Laborer
$5.5 Million Settlement
Occupation: U.S. Navy Veteran and Mechanic
$3 Million Settlement
Occupation: U.S. Army Veteran and Union Electrician
$6.5 Million settlement for a U.S. Army veteran and oil field worker
$3.5 Million awarded to a U.S. Navy pipefitter and union insulator
$9.3 Million settlement for a U.S. Navy veteran in Massachusetts
$2 Million secured for a U.S Navy officer from Maine
Asbestos Trust Funds
Asbestos companies started claiming bankruptcy to avoid lawsuits they were facing from sick, injured and dying former employees. The courts ordered them to set aside money in asbestos trust funds that would be available for current and future victims of asbestos exposure.
$30 Billion
Estimated Amount in Asbestos Trust Funds
Veterans who were exposed to asbestos and developed mesothelioma as a result are often eligible for compensation from these funds.
Working with a mesothelioma law firm like Sokolove Law is the best way to determine whether you may be eligible for compensation from an asbestos trust fund.
We can handle every step of the asbestos claims process for you, so you can focus on your health and your family. During your free legal consultation, we can review the details of your exposure and let you know if you may have a case.
Mesothelioma in the U.S. Military
Because asbestos had so many uses in construction, the U.S. military relied on this toxic material in all of its branches. In fact, service members often came into direct contact with asbestos. Many veterans handled asbestos as part of their roles in constructing buildings, ships, or aircraft.
Common areas that exposed workers to asbestos include:
Aircraft
Barracks
Boiler rooms
Engine rooms
Mess halls
Shipyards
Vehicles
U.S. Navy Veterans at Highest Risk
Due to the sheer volume of asbestos that was used in the construction of 20th-century ships, U.S. Navy veterans, in particular, are at the highest risk of developing an asbestos-related disease such as mesothelioma.
That is not to exclude other branches of the military. No matter what branch, or what role, most veterans who served may have experienced some form of exposure to asbestos dust during active-duty service.
Mesothelioma in U.S. Military Personnel
While all veterans are at a higher risk of developing mesothelioma than the general population, certain roles within the U.S. military involved higher amounts of asbestos exposure than others.
U.S. military jobs with a high risk of asbestos exposure include:
Insulators
Pipefitters
Technicians
Shipbuilders
Shipyard workers
Welders
Our veterans made great sacrifices during their military service — they shouldn't have to forfeit their golden years because of an asbestos-related illness. For this reason, Sokolove Law is proud to provide legal help to U.S. military veterans with mesothelioma.
Secondhand Asbestos Exposure
Unfortunately, the dangers of asbestos aren't limited to those directly exposed to the toxic mineral. If you came in contact with asbestos fibers in the air, these fibers may remain on your clothing when you go home and put the loved ones you come in contact with at risk as well.
Recently Diagnosed With Mesothelioma?
You may be eligible for compensation. Get the help you deserve.
Mesothelioma Veterans Benefits
Asbestos lawsuits rose in the 1970s and 1980s, and the U.S. military stopped using the mineral as a result. Still, active military members face risks to this day because asbestos from the past lingers behind in older military bases, buildings, equipment, ships, and vehicles.
You Have Options
Veterans who have developed an asbestos-related disease like mesothelioma, lung cancer, or asbestosis may seek benefits and resources through a number of different avenues.
One especially common route for veterans is seeking help through the U.S. Department of Veterans Affairs (VA), which offers benefits and financial compensation for those that qualify.
Qualifying veterans with mesothelioma can receive monetary benefits for:
At-home caregivers and nursing
Burial and memorial services
Surviving spouses, dependents, and next of kin
Disability based on the level of impairment
Mesothelioma treatments at a specialized medical center
Medications
Mobility and other medical equipment
Therapy and mental health counseling
By filing for benefits through the VA, veterans with mesothelioma are making a decision to seek better treatment options and monthly compensation that may help them prolong their lives.
The case managers at Sokolove Law are available 24/7 to answer questions for veterans with mesothelioma who need assistance with filing for VA benefits and other forms of compensation.
How to Apply for VA Benefits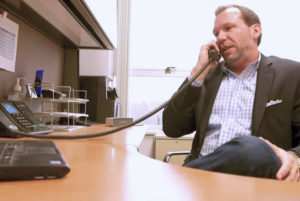 By working with a VA-accredited mesothelioma lawyer like Ricky LeBlanc at Sokolove Law, you can get licensed help:
Filing your VA claim for mesothelioma veterans benefits
Detailing and proving your asbestos exposure to ensure you receive benefits
Securing additional benefits, even if you've already filed a claim
Navigating the appeals process if you've previously been denied claims with the VA
Your legal team will gather the following items to prove your eligibility and file an asbestos VA claim:
Discharge documentation
Exposure summary
Medical records
Proof of exposure
Veterans should consider working with a mesothelioma law firm like Sokolove Law when pursuing VA benefits, because the VA claims system is complex. Since most veterans are not well versed in the legal system, they might not know how to get all the benefits entitled to them.
If a veteran or their loved one files a claim improperly, they could be denied, or they may receive a smaller amount than they need to pay for their medical treatments. As a result, they could lose out on benefits and government-sponsored services.
Types of VA Benefits for Mesothelioma
Filing for VA benefits can be a confusing and long-winded process when you consider all the necessary paperwork, proof of asbestos exposure and, in some cases, disability appeals.
Working with a VA-accredited mesothelioma lawyer can help take the headache out of this complicated procedure.
Veterans with mesothelioma may have multiple types of VA benefits available to them, including:
VA Disability Compensation
VA Pensions
VA Health Care
VA Disability Compensation
Veterans who have developed a service-related disability or disease may be eligible to receive disability compensation through the VA. Upon filing a disability claim, the VA will provide veterans with a disability rating that helps determine how much compensation they may be owed.
Mesothelioma usually qualifies for 100% coverage on the VA's disability scale, so veterans with mesothelioma may be eligible to receive the highest compensation amount available. For 2022, a 100% VA disability rating qualifies for $3,332.06 per month.
VA Pension
The Veterans Pension and Survivors Pension benefit programs were created by the VA to help veterans and their families cope better with medical and financial challenges through monthly pension payments.
VA Health Care
The VA Health Care System offers world-class care for eligible veterans. Enrolled veterans can gain access to preventive, primary, and specialty care, in addition to home health care, geriatrics and extended care, and medical equipment.
The VA Health Care System has a partnership with two world-renowned mesothelioma doctors:
Dr. Avi Lebenthal in Boston
Dr. Robert Cameron in Los Angeles
And if they're not located in your state, don't worry — the VA may even pay for your travel expenses to see mesothelioma specialists out of state if you have a referral from your local VA doctor.
Work With a Mesothelioma Lawyer
Much of our mesothelioma law firm's success has been earned by working side-by-side with veterans who are now fighting for their lives. Having helped thousands of veterans and their families pursue justice, our firm is primed to assist mesothelioma victims well into the future.
The team at Sokolove Law has VA-accredited mesothelioma attorneys who can help eligible veterans pursue compensation through every avenue available. We've secured over $5 Billion for our mesothelioma clients over the last 40 years.
If you are a veteran with mesothelioma or another asbestos-related disease that you believe is a result of your service in the U.S. Armed Forces, we strongly encourage you to reach out to us today.
We want to listen to your story, and we want to help — get started today with a free case review.
FAQs About Veterans and Mesothelioma
Filing for VA benefits can raise important questions and sometimes prove difficult without the help of an expert.
Below we have assembled some fast facts about mesothelioma veterans benefits in the hopes that you may find the information you are looking for.
How many veterans have mesothelioma?
Mesothelioma affects around 3,000 Americans each year, according to the American Cancer Society. U.S. military veterans make up roughly one-third of these cases.
Sadly, because it can take 20-50 years for symptoms of mesothelioma to appear, many additional veterans may be living with the disease without realizing it.
Which U.S. service branch had the highest risk of asbestos exposure?
The U.S. Navy had the highest rate of asbestos use, which is why U.S. Navy veterans are among the most impacted by asbestos in the United States.
That said, asbestos was used in every branch of the military from the 1930s until the early 1980s, which puts nearly 20 million former soldiers at risk of developing an asbestos-related disease.
How do I know if I am eligible for mesothelioma veterans benefits?
In order to receive mesothelioma disability benefits, veterans must show they were:
Diagnosed with mesothelioma or another asbestos-related disease (like asbestosis or lung cancer)
Exposed to asbestos during their service to our country
Honorably discharged
Get a free case review today for help determining if you're eligible for mesothelioma veterans benefits and proving your asbestos exposure history.
What can a lawyer do for veterans exposed to asbestos?
VA-accredited lawyers like Sokolove Law's managing attorney Ricky LeBlanc can handle every step of the legal process for veterans with mesothelioma while helping to prepare, present, and prosecute claims for mesothelioma veterans benefits.
How can I access veterans health care and financial benefits?
To get disability VA benefits, you have to be a veteran and file a claim for disability compensation through the VA. Veterans with mesothelioma can apply for benefits online or in person at a local VA office.
Your claim should include the following documents, all of which your legal team can help you get:
Medical records proving mesothelioma diagnosis and probable cause
Service records indicating the veteran's job, specialty, and time served
A doctor's statement identifying a link between a veteran's exposure to asbestos and the development of a disease
Working with a VA-accredited lawyer can make this process much easier for you. Get a free case review today to see if we can help you.
Can I file a lawsuit in addition to receiving VA benefits?
In certain cases, veterans (or their surviving family members) can file a personal injury or wrongful death lawsuit against the asbestos companies responsible for their disease. Pursuing compensation through a lawsuit does not affect a veteran's ability to collect mesothelioma VA benefits.
Can I file a claim with asbestos trust funds?
Asbestos trust funds have been established by bankrupt asbestos product manufacturers to compensate victims after the company has gone insolvent.
Mesothelioma patients who have gotten sick by working directly with asbestos or were otherwise exposed to asbestos-containing products made by a company that has an established trust may be able to access these funds.
Receiving compensation from asbestos trust funds does not affect your ability to collect mesothelioma VA benefits.