Mesothelioma patients or their loved ones may be able to file a lawsuit against the companies responsible for exposing them to asbestos. The vast majority of mesothelioma lawsuits result in settlements, usually without the client going to court.
Over the last 40 years, Sokolove Law has recovered billions of dollars for our clients. Let us file your lawsuit and fight for the compensation you deserve.
Top 4 topics on this page:
What Is a Mesothelioma Lawsuit?
A mesothelioma lawsuit is a legal claim filed by victims and family members against the companies that produced asbestos-containing products that harmed them, causing mesothelioma, lung cancer, or asbestosis.
Many manufacturers chose to continue using asbestos in products after the dangers were known. In fact, they even hid the dangers from the public.
Mesothelioma lawsuits help provide an avenue for the thousands of innocent victims and their families to seek justice against the company responsible for exposing them to asbestos and getting them sick.
Call Sokolove Law right now at (800) 647-3434 if you've been diagnosed with mesothelioma or another asbestos-related disease.
Why File a Mesothelioma Lawsuit?
Filing a lawsuit for mesothelioma is an opportunity to fight back and pursue much-needed financial compensation for you and your family.
You'll have peace of mind that you have the financial resources to cover the expenses of your illness and provide lasting financial security for your family.
Mesothelioma cancer lawsuits can help:
People diagnosed with mesothelioma focus on their health and treatment
Families tackle the overwhelming cost of mesothelioma treatments or funeral expenses
Hold manufacturers of asbestos-containing products accountable for their negligence
Encourage others with asbestos-related illnesses to pursue justice for themselves
When you file a mesothelioma lawsuit with the help of Sokolove Law, you can get help securing life-changing resources when facing staggering hospital bills on top of the emotional strain of a cancer diagnosis.
Billions Recovered Nationwide
At Sokolove Law, we've recovered over $4.7 Billion for thousands of mesothelioma patients and their families nationwide. Let us get you the results you deserve.
"If someone was diagnosed with mesothelioma as I was, I would suggest they call Sokolove Law because Sokolove takes care of you, and they mean business."

Dennis,
Mesothelioma Victim
Mesothelioma Lawsuit Settlements
A settlement is when both parties agree on fair compensation before trial, but if no settlement can be reached, the case goes to trial. The case will be heard at trial before a jury, who will deliver a jury verdict.
$1M - $1.4M
Average Mesothelioma Settlement Amount
The average mesothelioma settlement is valued at between $1 Million and $1.4 Million, while the average mesothelioma verdict amount can be between $5 Million and $11.4 Million, though these results are just ballpark figures. Every case is different.
Many different factors influence compensation amounts, including:
The strength of evidence of asbestos exposure in your case
Your mesothelioma diagnosis
Lost wages and medical expenses
The number of companies listed in the lawsuit
Where your case is filed (financial payouts by each state may vary)
With mesothelioma lawsuits, trials can be difficult and expensive. Thankfully, over 99% of our mesothelioma lawsuits result in settlements — oftentimes without our clients ever having to set foot in court.
When a defendant knows your mesothelioma attorney is prepared to try your case, they're more likely to settle, especially if your attorney has had success against the defendant in the past.
Sokolove Law has successfully negotiated thousands of mesothelioma settlements, allowing patients in poor health to receive much-needed compensation faster.
Our Past Mesothelioma Results
$40.1 Million Verdict
Occupation: Navy Veteran
Navy veteran who got sick working as a fireman and boiler tender during the Korean and Vietnam Wars.
$10.5 Million Settlement
Occupation: Pipefitter
A pipefitter who was diagnosed with mesothelioma after working in foundries and refineries.
$5.5 Million Settlement
Occupation: Navy Veteran
Awarded to a United States Navy veteran who worked for three decades as a mechanic and demolition laborer before going on disability due to mesothelioma.
$1.08 Million Settlement
Occupation: Construction Worker
Awarded to a 79-year-old man from Washington who worked in construction for his entire life — up until his mesothelioma diagnosis. He also served in the Navy on an aircraft carrier stationed out of California.
Four Decades of Experience Behind You
Sokolove Law has served on the frontlines of this battle for more than 40 years and is dedicated to helping victims of asbestos exposure get the information and resources they need.
We've helped thousands of clients fight for the justice they deserve.
Mesothelioma Lawsuit Process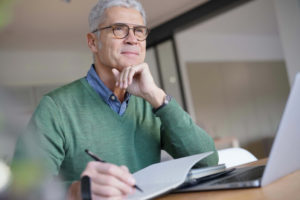 Filing a lawsuit may seem overwhelming and complicated, but Sokolove Law strives to make it as easy as possible. Our team can help you make sense of the complex legal framework surrounding filing mesothelioma claims.
We can also help you take advantage of different state laws (or statutes of limitations) that limit how long you have to file a claim, so you can receive the compensation you may deserve.
Manufacturers of asbestos-containing products should be held accountable for their negligence, and mesothelioma lawsuits are just one way to do so.
Let us help you choose the best course of action and guide you step-by-step through the legal process.
Call Sokolove Law at (800) 647-3434 or fill out a quick form to get your free mesothelioma case review. During this step, one of our mesothelioma paralegals will review your unique situation and determine if your claim is eligible to proceed.
If we think you have an eligible claim, we'll meet with you either at your home or in another place of your choosing — wherever it is easiest for you. We can also arrange a video conference or phone call if you prefer.
You can tell us about your asbestos exposure as best as you can remember, and we will figure out what is needed to build a successful mesothelioma case. And there is no cost for this meeting.
Even if you do not know how or where you may have been exposed, we will closely consider your background and work history to pinpoint this information.
With a better idea of your work history and other possible exposure sources, we'll consider the available options and form a plan to maximize your compensation while limiting your anxiety and stress.
There are a few different ways to pursue mesothelioma compensation, and we'll help you select the best fit for your situation to maximize the money you may receive. We will identify all possible defendants and asbestos trust funds to pursue and guide you through the process.
With a plan in place, we will file the complaint on your behalf in the state that gives you the best chance of securing an asbestos settlement.
The statutes of limitations vary from state to state, so it is important to file as soon as possible after a mesothelioma diagnosis. If you do not file in time, all your rights to recover compensation could be gone forever.
Companies rarely admit fault, so after a claim has been filed, lawyers on both sides will begin requesting records and other documentation to prove their case.
Because of our 40+ years of handling mesothelioma cases, Sokolove Law already has many documents necessary to prove your case. However, we always discover new defendants through client information, and we use the discovery stage to develop cases against these new defendants or products.
A settlement is if both sides can agree on a financial compensation amount before going to trial. This is the most common outcome for mesothelioma legal claims.
Rarely, cases go to trial and are heard before a jury, which delivers a verdict. A trial can be exhausting, time-confusing, and very expensive for you and your family. Even worse, if you lose the trial, you get nothing.
Additionally, even successful trial verdicts may be appealed by the defendant that wants to reduce or overturn the asbestos lawsuit settlement, or the court can reconsider them. Appeals take time, are expensive, and are often used by defendants to get you to accept less.
A successful appeal from the defendants can reverse a decision by an earlier court that sided with you. On the other hand, an appeal by your legal team could give you the compensation you may deserve.
Need Help Filing a Mesothelioma Claim?
Download your FREE guide to filing a mesothelioma claim.

Who Can File a Mesothelioma Lawsuit?
You may be eligible to file a mesothelioma lawsuit if you were:
Diagnosed with an asbestos-related disease like mesothelioma
Exposed to asbestos-containing products
Since you may have been exposed to asbestos decades ago, determining exactly when, where, and how your exposure took place can seem overwhelming — but Sokolove Law is here to help.
Determining Your Asbestos Exposure History
Even if you are unsure where you were exposed to asbestos, contact Sokolove Law. We can use our databases of evidence and decades of experience to determine how and when you were exposed to asbestos.
Our team will work to gather the evidence needed to build a strong case, which can include:
Documentation of all expenses related to the cancer
Employment records
Identification of coworkers or other witnesses
Medical records
Testimony
We'll be sure to explain all the documents as we go, so you're informed every step of the way.
Types of Lawsuits for Mesothelioma Cancer
For someone diagnosed with mesothelioma to receive legal compensation, they will need an experienced asbestos attorney to help them navigate the legal process.
For decades, Sokolove Law has helped mesothelioma victims file the appropriate type of lawsuit for their case and filed claims against any identified eligible asbestos trust funds. If you are considering filing an asbestos lawsuit, contact us to learn how we can help you.
Personal Injury Mesothelioma Lawsuit
A personal injury lawsuit allows a victim diagnosed with mesothelioma to pursue financial compensation from the company or companies responsible for exposing them to asbestos.
Asbestos-related personal injury lawsuits hold specific companies responsible for an individual's exposure to that company's asbestos-containing products.
These cases allow a living individual to receive compensation that can cover:
Living expenses
Lost wages
Medical expenses
Pain and suffering
Surgery
Travel
Medical treatments
Recently Diagnosed with Mesothelioma?
You may be eligible for compensation. Start your free case review today.

Wrongful Death Mesothelioma Lawsuit
Family members, or anyone who has been court-appointed as the representative of a victim's estate, may file a mesothelioma lawsuit after death on behalf of someone who has passed away due to mesothelioma.
These cases allow families to receive compensation for:
Funeral expenses
Lost income potential
Medical bills
The loss of their loved one
Pain and suffering
If a person passes away before their personal injury claim is completed, their family may carry it forward as a wrongful death lawsuit.
Mesothelioma Class-Action Lawsuit
Mesothelioma cancer class-action lawsuits are no longer heard at the federal level and are, in general, almost nonexistent today.
Class-action lawsuits include many people who have similar cases and are filing them as a single case against a company that exposed them to asbestos.
Sokolove Law Can Handle Your Mesothelioma Lawsuit
Each day, families are blindsided by a mesothelioma diagnosis. Sokolove Law can help you receive the compensation you may be owed with little stress. Remember, it costs nothing to speak to us.
Our mesothelioma law firm will help file your lawsuit properly and build a strong case that shows your illness was caused by asbestos. By filing a case, you are choosing to secure crucial resources for your family and to hold asbestos companies accountable.
Start Your Free Case Review Today
If you have received a mesothelioma diagnosis, you have a limited time to file a claim. Start the process today with a free case review or call us at (800) 647-3434.
Mesothelioma Cancer Lawsuit FAQs
How much time do I have to file a mesothelioma lawsuit?
Eligibility to file is often based on the mesothelioma lawsuit statute of limitations, which determines how long you have to file a lawsuit, varies from state to state, with some as short as 1 year.
The state you live in may not be where you file your complaint, so it is important to contact a credible law firm immediately to figure out how much time you have.
Further, statutes of limitations depend on various factors, so the best — and only — way to know how long you have to file is by working with a trusted law firm like Sokolove Law.
How much does it cost to file a mesothelioma lawsuit?
There are no up-front costs to file a mesothelioma lawsuit with Sokolove Law. We work on a contingency fee basis, meaning we will only accept payment if we help you receive compensation.
My family member has died from mesothelioma. Can I file a lawsuit on their behalf?
Yes, a claim may still be filed — this is known as a wrongful death lawsuit. Wrongful death lawsuits can be filed by the estate of someone whose life was needlessly taken by asbestos exposure.
However, to file on behalf of the estate, a court would need to name you the estate's representative. When you work with Sokolove Law, your experienced mesothelioma lawyer can assist you.
Will I need to travel for a mesothelioma lawsuit?
Sokolove Law will represent you in court, following your instructions as we have agreed upon. We will travel to meet you as needed when it's most convenient for your schedule, though we try to minimize disruptions for mesothelioma patients and their loved ones.
Your testimony is a crucial part of the case, and typically, we can record any statements you need to make in the comfort of your home or at a treatment center.
Even during the COVID-19 pandemic, our team of mesothelioma lawyers has been here to help. We can file for you without you ever having to leave your home.
Simply call us or video chat with our legal team to quickly find out if you're eligible to file a mesothelioma lawsuit and possibly receive compensation.
How long does a mesothelioma lawsuit take?
Some mesothelioma claims will reach an outcome in a few months. The mesothelioma lawsuit timeline will depend on many factors, including the type of lawsuit you file and whether you are able to reach a settlement or have to go to trial.
Being represented by an experienced mesothelioma law firm like Sokolove Law is important because some defense teams will try to drag this process out to delay compensation. If your health is poor or your cancer is late-stage, the courts may expedite a lawsuit.
Will I have to file the lawsuit against the military or government?
No. When you file a mesothelioma lawsuit, you won't be filing a lawsuit against the military — you'll be suing the manufacturer of the asbestos-containing products you were exposed to, even if the asbestos exposure occurred during your service.
If the company responsible for my asbestos exposure is gone, can I still file a mesothelioma lawsuit?
Some companies responsible for exposing people to asbestos have already filed for bankruptcy due to the large number of claims against them. However, that doesn't necessarily prevent you from taking legal action against these companies.
The courts ordered some bankrupt companies to establish asbestos trust funds to ensure the money would be available for future claimants. These bankruptcy trusts now total an estimated $30 billion and are designed to quickly facilitate payments for valid claims.
So, even if you are not eligible to file a mesothelioma lawsuit, you may be able to file an asbestos trust fund claim if the company has established one. Sokolove Law can help you gather the information needed to see if you qualify for trust fund compensation.