Asbestos Exposure in Montana
Working with asbestos or in a high-risk asbestos exposure area can put you at risk of developing various asbestos-related diseases, including an aggressive cancer called mesothelioma.
If you worked at one of the asbestos job sites in Montana listed above and were later diagnosed with mesothelioma, contact us today by calling (800) 647-3434 or getting a free case review. We can help you pursue financial compensation for your medical expenses and more.
Even if you're not sure when or how you were exposed, we may still be able to help. Let us try to find out what happened — and work to get you answers.
Asbestos Exposure at Work
Despite being a known carcinogen, asbestos was used in thousands of products across commercial, industrial, and residential settings throughout much of the 20th century. Dozens of industries and every branch of the U.S. military utilized asbestos-based products.
Asbestos was a popular choice for industry executives because it was cheap and naturally resisted heat, fire, and electricity, which made it an ideal material for many different kinds of products.
As a result, asbestos exposure at work can occur across many different sectors and trades.
Mesothelioma in Montana
What many workers and consumers didn't realize at the time, however, is that asbestos is a danger to anyone who comes into contact with it. There is no safe level of exposure to this toxic mineral.
Worse, the asbestos dust from a job site can linger on a worker's clothes and travel home with them, potentially exposing their family members as well.
As a result, thousands of workers, service members, and their families were put at risk of serious, potentially fatal asbestos-related diseases, like:
I was exposed to asbestos at work — can I sue?
Potentially, yes. If you or a loved one were diagnosed with an asbestos-related disease after working around asbestos, you may be eligible to take legal action to secure financial compensation.
We can let you know what your legal options are at no cost to you. Call (800) 647-3434 or fill out our contact form to get started.
We're ready to help 24/7.
Asbestos Jobs in Montana
Many different kinds of trade workers in Montana were surrounded by asbestos-containing products for much of their careers, possibly even on a daily basis for years — without being warned about the risks.
Regardless of your job at the time, if you worked at one of the Montana asbestos job sites listed above and were later diagnosed with an asbestos-related disease, you may be entitled to compensation.
Asbestos Exposure Jobs
Because asbestos was used in so many building materials and products, a number of different roles may have come into contact with the toxic mineral on the job.
Common asbestos-related jobs include:
Aircraft or automotive mechanics
Boilermakers
Carpenters
Construction workers
Factory workers
Firefighters
Laborers
Military veterans and service members
Painters
Pipefitters
Plumbers
Railroad workers
Shipyard workers
Welders
Please note: The above list of occupations is not exhaustive. Many different roles may be at risk of asbestos exposure and mesothelioma.
Asbestos-Based Product Manufacturers in Montana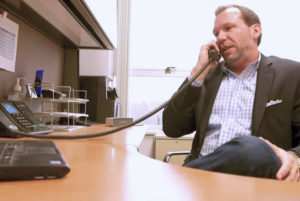 Manufacturers of asbestos-based products knew the dangers of asbestos exposure for decades but hid the truth from their workers and the public.
If you were diagnosed with an asbestos-related disease, you may be able to hold the manufacturer accountable for their negligence by taking legal action.
When you work with Sokolove Law, we can handle this process for you, working to find the evidence of exposure in your case in addition to filing your claim. Let us put our 40+ years of experience to work for you.
Call (800) 647-3434 or fill out our contact form today to see if we can help with your case. There's no cost to speak with us.
Get Help from Montana Mesothelioma Lawyers
If you or a loved one was exposed to asbestos at work and later diagnosed with mesothelioma, you may be eligible for compensation that our Montana mesothelioma lawyers can fight for on your behalf.
As a national mesothelioma law firm, Sokolove Law can help mesothelioma patients across the country pursue justice and hold the companies responsible for their illness accountable.
Over the last 40+ years, our mesothelioma attorneys have recovered over $4.8 Billion for thousands of clients across the country.
We can handle every step of the legal process on your behalf, from finding the evidence to filing your claim — at no out-of-pocket costs to you or your family.